I got a Prada Ribbon Clutch in Pink which I wish for so long and never thought would be able to purchase one in Australia due to their limited stocks.
I was quite surprised he got me a card as well.
This probably was the 2nd card he ever wrote.
I'm very happy...
I got him some nice things too.
A Chanel Tie.
Peter Alexander tee & boxer
Shakuhachi panda tee
Something special for myself.
Chanel brooch
Chanel earrings
An Adrienne Landau Mink Ballero from Neiman Marcus.
It costs me few hundreds for taxes at custom (18% outerwear +10% GST).
Don't know if I would ever wear it.
It's adorable but too expensive to store in the wardrobe.
Shakuhachi
100% Cotton oversize tee with crew neckline and Panda Bear print.
Fluro Pink
Use mine as sleepwear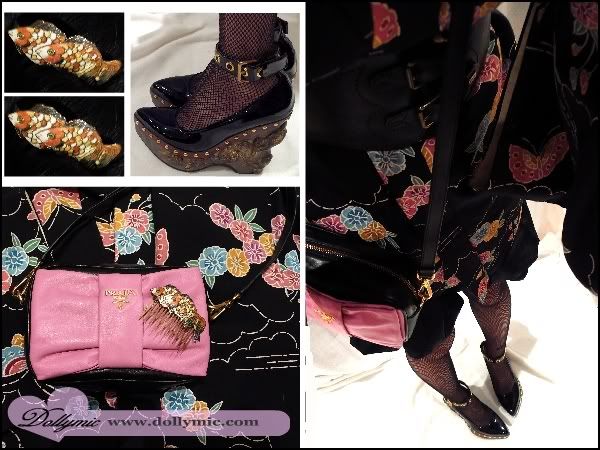 Why I want a ribbon clutch so desperately?
It's cute of course, it's a love at the first sight.
However, the first time I saw the clutch in pink,
I knew it will complete this outfit perfectly.
Darling said I'm crazy to wear a kimono outdoor.
Well, I don't think is that crazy, am I?
Maybe fashion is crazy sometimes.
Normally, I wear the kimono as a jacket with tee and jeans, unbelt.