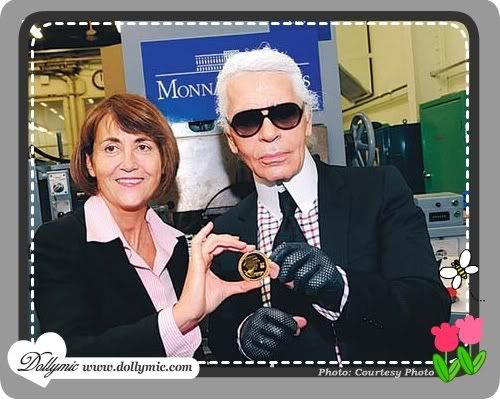 "There might be less of it, but money can still be beautiful," Karl Lagerfeld said Wednesday morning at the Monnaie de Paris after minting the first coin he's designed, marking the 125th anniversary of Gabrielle Chanel's birth. Two gold and two silver coins make up the limited edition collection, each featuring Chanel's portrait on one side and a giant number five on the other, representing their face value of five euros, or $6.30, a reference to the house's classic scent. Lagerfeld, who posed for photos with the coin held like a gold patch in front of his eye, admitted he's not a money person. "I like money to be spent, not kept," he said. Just 99 of the most valuable piece, a gold coin weighing five ounces, will be produced, with a price tag of 5,900 euros, or $7,450.
source:
wwd

It's truely a collector's piece,
but I rather spend the money on a bag or a few pair of Chanel shoes.